Magnets advancing science, medicine & industry.
We are proud of our highly experienced team, who excel in providing the highest quality service and support to the most advanced MRI superconducting magnets and resistive magnets Worldwide.
Tesla design and manufacture a wide range of top performance, state-of-the-art superconducting and resistive magnets for the World's most specialist applications in science, medicine and industry.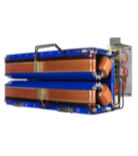 Tesla provide specialist feasibility studies and consultancy services on the design and manufacture of superconducting and resistive magnets. E-mail us
We support Tesla, Magnex, Varian and Agilent MRI magnets.